You can't go back on your word.
You can't.
No matter how much you want to- you can't.
Maybe it will be closed.
Maybe she will change her mind.
Doubtful. (After all, she is MY niece.)
This is the conversation I had with myself on Black Friday, as I lay in bed bloated from the carb overload of the day before.
The idea of ice skating did not appeal to me on my best day- much less on a day when I felt even clumsier and bigger than usual.
One lesson I don't think you fully understand until you have kids (i.e. a lesson I still have not learned) is that you cannot tell a child "You can have whatever you want" or "We will do whatever you want." You are opening yourself up to paying obscene amounts of money to procure the most coveted Harry Potter Legos from some Ebay extortionist when all the stores are sold out in the days leading up to Christmas. You will find yourself trying not to curse as you cut fondant for a Williams-Sonoma "Build-a-Bear" project that would have Martha Stewart sweating. You will incur the wrath of your friends when you buy their children the loudest, most obnoxious toys you can find (Just for future reference- my personal favorite is Melissa & Doug's "Band-in-a-Box").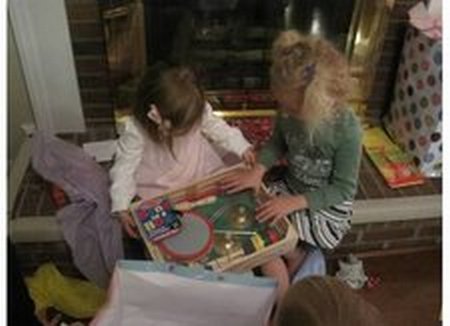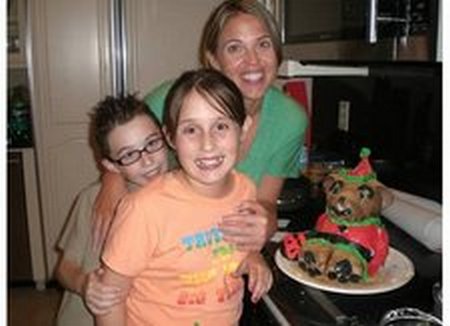 And, after promising your 12-year-old nephew and 14-year-old niece that you would do whatever they wanted while home for Thanksgiving, you may even find yourself driving through a bad part of town in your mother's car to go ice skating while praying that 1. you don't wreck the car; 2. you don't get car jacked; and 3. you don't break any bones (and not necessarily in that order).
And of course, there is the whole "adult thing" that goes along with it. It is so difficult being an adult- and it is so much harder when you are with kids. It is like everyone is pretending you know what you are doing and you have to pretend too because otherwise the kids will realize that there really is no captain of the ship.
I vividly recall my close friend Jami's baby shower when she was pregnant with her first child. She opened up one of her gifts and it was this "emergency kit" of sorts that contained like 9,000 pumps and suckers (for snot apparently) and gauges. Being the supportive friend that I am, I leaned over and whispered "You are so screwed." (Fortunately, both of her children have survived quite well, but I would still bet $100 that she does not know how to use at least half of the items in that ridiculous, fear-inducing kit.)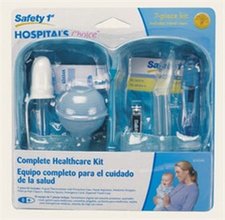 When you are the grown up, you have to carry everything- the coats, drinks, bags, etc. (And for some reason, children always hand you their trash?) You are supposed to know where you are going. You are supposed to be able to say "no" and mean it. You are the cruise director, the doctor, the peacemaker, the judge.
It is hard work.
And it involves a lot of things I am not very good at it.
Several years ago, I was traveling with my friend Cathy and her two children. She needed to run an errand so she told her kids that I was in charge while she was gone. Her son looked at her so seriously and pointed to me and said "Mom- is she a grown up??"
Totally valid question. I was not at all offended. In fact, I took it as a compliment. I am a "cupcakes with blue icing, late bedtimes, make-up and nail polish, sparkly shoes, '5 more minutes of television won't hurt'" kind of girl. And I know if they were my own children it would be different. But they aren't. And making them happy makes me happy.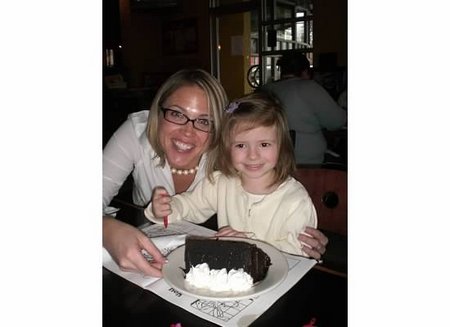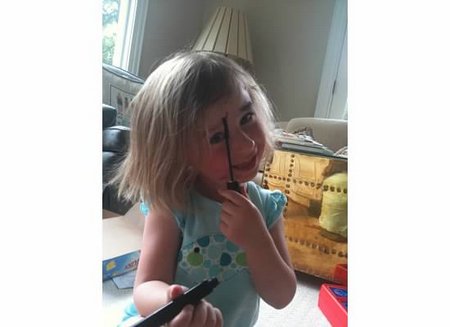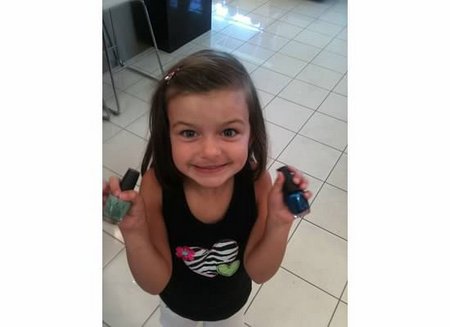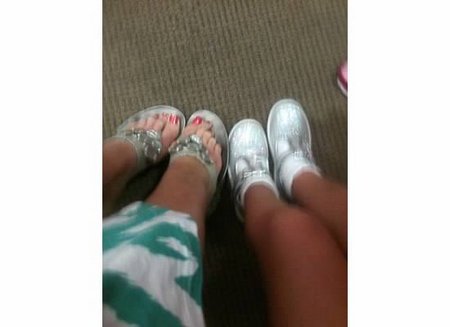 And in this particular instance, what made them happy was ice skating.
To say I was anxious about the prospect of trying to maneuver myself around a circle of slippery ice on two blades would be quite an understatement.
I knew the easy way out- the responsible "adult" thing to do- would be to sit in the bleachers (holding everything of course) while my niece and nephew skated. I would be warm. And safe. And a lot of the parents were doing just that.
But I didn't want to be the aunt who sat in the bleachers.
Once we were all laced up in our skates (with my niece being the one to do the lacing as she was the expert), we entered the arena.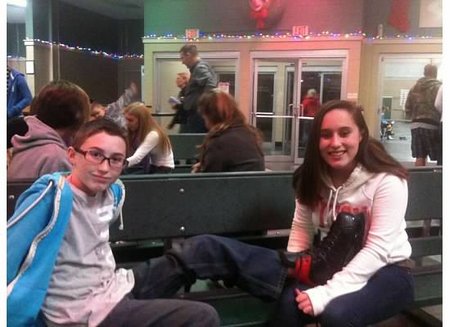 Booming music.
Flashing lights.
And lots and lots of children.
I tried to appear calm and confident, but the whole "grown up act" was weighing me down almost as much as the ridiculously heavy skates.
I gave the children a reassuring smile and said "Aunt Lori is fine- go skate" as I hugged the railing while trying to also hold onto my "walker" (a device to help "beginning skaters" get comfortable on the ice). I did not dare wave them off to drive my point home though as I was terrified that any sudden movement would cause me to fall.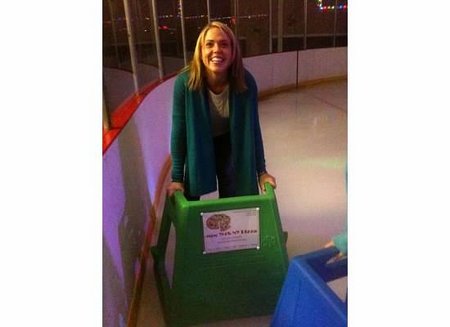 In my head, I was ten years old again roller skating at Funtime Skateland in Jackson, Mississippi while all the cool kids whizzed past me.
After a couple of minutes, I finally let go of the railing and clung to the walker as if my life depended on it. Slowly but surely, I was able to progress a few ugly paces. The children had probably circled ten times by the time I made it around once.
They would periodically stop by my area next to the edge to make sure I was doing okay and to offer me encouragement.
After a little while, my nephew decided he would skate with me. As we were skating together, I looked at him- 12 years old and moving forward with no walker- and realized that I too had to try it without the walker. As much as I hated the idea of it, I hated the idea of being the aunt who used the walker almost as much as I hated being the aunt who sat in the bleachers.
I announced to Austin "I am going to try it without the walker."
He looked over at me and said "Are you sure?"
"Yes" I said, in spite of the fact that every fiber of my being was screaming "NO, NO, NO."
He held the walker for me as I took my first tentative steps unassisted. I was awkward and slow. But I was doing it. We skated several laps like that- me going slowly while he skated next to me with the walker in tow in case I needed it.
After a little while, he looked at me so seriously and sweetly and said "Aunt Lori- You don't need this anymore. It's time we put it up."
I initially protested because just knowing it was close made me feel safe.
But he was right.
I told him I needed one more lap with my security blanket (the walker) in tow. He acquiesced.
Once that lap was over, he skated the walker over to the edge of the rink. "It's time we leave it-okay?" He waited for my final approval- not because I was the adult but because he loved me and was struggling with wanting me to feel safe but also wanting me to realize I could do it without the walker.
"Leave it!" I said with more enthusiasm than I felt so he would not feel guilty about taking it away from me if/when I fell and broke my arm, leg, hip, whatever.
And we began again- with him slowing his pace to accommodate mine and me pushing myself to go faster and meet his.
Eventually, my niece came over to check on my progress (and probably to relieve her brother of being responsible for me for a little while…). As I skated with her, I started looking around at all the other skaters- these kids who were flying past me, skating backwards, doing tricks. It was amazing. But while doing that, I lost my balance and almost fell.
"Aunt Lori- You have to focus on yourself. If you watch what other people are doing, you are going to fall."
Out of the mouth of babes….
After our skating adventure was over, it was impossible for me not to see that I ice skated exactly how I live- cautiously, carefully… so afraid of falling and getting hurt… watching other people- convinced they are doing it so much better than I am.
But, just as in life, I realized that even if I wasn't that great at it, I did not want to be one of those people who sat on the sidelines- so afraid of failing or getting hurt that I settled for mediocrity and safety instead of pursuing the life that would make me happy.
It was also important to me that my niece and nephew look back on that night and remember me as their aunt who tried her best (even if that came with a ton of embarrassment due to being related to me)- not their aunt who sat in the bleachers because she was too scared to try. It was important that I remember myself that way too.
In skating and in life, it is ironic that we have to suffer to find contentment. Think about the times when you have felt the happiest, the most proud, the most alive. Didn't the vast majority of those experiences arise out of situations where you put yourself out there in a way that scared you as opposed to choosing the comfortable, easy route?
I will never forget when my mom and stepdad dropped me off for college at Stetson University in 1991. I did not know a soul. I was going to be living in a strange place surrounded by strangers. And all of my friends that I had grown up with were together at Ole Miss, safe and secure and having a wonderful time together I was sure.
As soon as my parents left, I went back into my dorm room and locked the door and cried my eyes out. And the entire time all I could think about was how stupid I was to choose this unknown strange place over the known comfortable place. Who chooses to enter through a second story window when there is a door standing wide open waiting for you? That's how it felt.
Within a week, I was having the time of my life. I had made friends, fallen in love with the campus, professors and town and felt an incredible sense of pride that I was making a life for myself on my own. I grew more in those four years than any other time in my life.
Fast forward seven years to my third year of law school…. I decided after a Christmas trip to Charlotte, North Carolina that I would move there and get a job rather than take the job that I had already been offered in Florida (where I would be surrounded by my family and friends). Again, the choice was between the known and the unknown, the certain and the uncertain, the painless and the painful.
And, thanks to the confidence I had gained while at Stetson, I once again chose the unknown. And it has proven to me one of the best decisions of my life.
The strange thing is that looking at it in retrospect, I cannot imagine my life having gone any other way.
I cannot imagine not having met the friends I cherish from Stetson and from Charlotte.
I cannot imagine not having fallen madly in love with the people that I have loved over the last 20 years.
I cannot imagine living my life without knowing that there was a strong, independent woman inside of me who could make it on her own.
And God knows that doesn't mean I haven't made a ton of mistakes along the way. But I wouldn't trade a minute of it for an easier life of checking off the boxes.
And when I think about the people I respect the most, I realize that the common trait amongst all of them is their decision- in one way or another- to get out on the ice and skate rather than opting for the safety of the bleachers. My friends who have started their own businesses. My friends who have gotten divorced. My friends who have gone back to school. My friends who fight cancer. My friends who run marathons. My friends who refuse to give up on finding true love. My friends who write books. My friends who admit that they need help and get it. My friends who fall down- and get back up.
It is their courage- not just their successes- that I admire.
I doubt I will ever ice skate again. But I am grateful for the reminders that the evening gave me– that the best things in life can only be obtained when we push ourselves in spite of feeling vulnerable and scared, that we have to let go of the security blankets that we cling to if we want to move forward, that we must focus on ourselves rather than others or we will surely fall– and that the only thing scarier than putting yourself out there is choosing to sit in the bleachers instead.